Port7

Close your eyes and imagine your new office.
What does it look like and what should not be missing?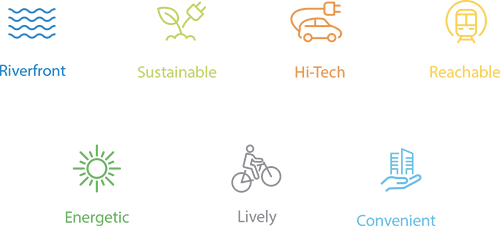 Want to know more about Port7?

The language of numbers
In numerology, the number 7 is generally considered a lucky number. So what will Port7 be like in the language of numbers? The project will connect 7 towers with terraces, of which 3 buildings will be administrative (Alexandria, Dover, Edinburgh).
Approximately 35 850 sqm of office space will be available to tenants. Although they may appear to be solitary masts on the outside, below decks all the buildings will be connected by a single underground car park with a capacity of 261 spaces.

Need more information?
Download Port7 app
Read Port7 story
Excellent transport accessibility

Port7 will offer seven ways to get there

Port7 can be reached on foot – you will be doing something for your health and for nature.

Cyclists can use several of the bike paths that run through Prague..

You can take the metro and use the newly built underpass directly from the Nádraží Holešovice station.

More than 10 tram and bus lines have stops around the station.

Going to work by train? No problem with Port7.
If you have your own kayak, houseboat, yacht or paddleboard, go to work on the Vltava river

Port7 will be easily accessible by car thanks to nearby connections to the city ring road, the Prague arterial and the motorway network.
Holešovice like a new Karlín
Holešovice is known as a rapidly developing district with new businesses and a wide range of cultural venues.
A port of comfort
In all our projects, we make sure that our tenants enjoy maximum comfort and have everything at their fingertips. With the space available, we will be able to provide even more at Port7 – in addition to restaurants, we plan to expand the services in Holešovice with a beauty salon, a café, a wine bar, a pharmacy, and a grocery. There will also be a wellness center, school, and nursery available to visitors.
LEED & WELL
When constructing each of our buildings, we are mindful of the sustainability and health of tenants. The LEED and WELL certifications confirm that we are succeeding.
LEED certification
We don't compromise on our projects. With Port7, we aim at the highest possible LEED certification level – version 4.
Certification with stricter requirements for building materials, energy consumption and outdoor water metering.
Before starting construction, we remove environmental burdens dangerous to human health and the environment.
We support innovative and environmentally friendly modes of transport, such as electromobility, car sharing, and bike-sharing.
Every drop counts, so we use rainwater to water the greenery in the park.
As a standard, all new buildings designed and built by Skanska Property use 100% renewable energy.
We minimize energy consumption through a number of innovations, such as LED lighting installation, energy recovery lifts, and an environmentally friendly cooling and heating system.
During construction, we take great care not to use any materials that could release hazardous and harmful substances into the atmosphere.
WELL certification
We make the most of daylight. For example, we will help you increase your productivity by up to 18%.
We use materials with low emissions of volatile organic compounds and efficient ventilation to ensure fresh indoor air. This makes people 11% more productive and healthier.
Tired of staring at the wall? Look out of the window at the river and the park. Taking a regular look at green spaces increases mental functions and memory by 10–25%.
Although water is often considered "ordinary", we only offer users the highest quality water. It improves human concentration and memory.
We will provide easy access for cyclists by renovating a bike path and, for pedestrians, by building an underpass from the train and metro station.
We create zones for active and passive breaks to recharge, whether in the park or on a roof terrace.
Relax in the park near water
Had a difficult meeting? Take a deep breath and relax in the new park. It is up to you to decide whether to walk along the river, have your lunch outside in the shade under a tree or play Frisbee. These are all great ways to capture a new wave of inspiration.
The Port7 office complex will offer variable elements of landscape architecture for both passive and active forms of relaxation and will be easily accessible by bike with the renovated bike path.
We want to provide only the best right up to the top floor. Get inspired on the terraces by distant views during the day and relax after dark by looking at the illuminated Prague Castle, the Troja Bridge or the calm surface of the river.
On a cool wave
We are pushing the limits of a pleasant work environment a little further. At Port7, you can even work on the water or use the port for small boats and boat taxis.
Innovation at your fingertips
The Port7 project will incorporate Connected by Skanska, an operating system for smart buildings.
It will offer both users and visitors the very best experience, working comfort and opportunity to fully utilize various services.
With the mobile app, tenants will be able to open their office door with a mobile phone, order dry-cleaning services or view the daily menu in the restaurant. They can also look forward to a virtual reception and a smart parking system.
We think of everyone
When planning our projects, we make sure that we not only build offices but really contribute to the location.
In 2018, we opened the Visionary building in Holešovice, which offers a polyclinic, a pharmacy and a nursery to the public. Port7 builds on what Visionary started.
The project will bring with it a large park, a new connection from the station to the river, a renovated bike path, a café, a fitness center, a nursery, a school, a grocery, and a pharmacy.
Maximum daylight
Comfortable landscaping for work and relax
Roof top terraces
PENB standard at B level
High speed lifts with energy recuperation in each lobby
Reception and 24/7 security service
Bike racks & showers
Electronic fire detection system
BMS intelligent system
Smart access
CO2 sensors
Dashboard with building energy consumption
Fully fitted toiletes with low flow fixtures
Aiming for LEED &WELL
LED lights controlled by central intelligent lighting system
Cooling beams - air supplied by highly efficient air handling units with humifiders
Heating through radiators
Sprinklers
Raised floor with carpet and floorboxes
2,5 kN/sqm floor load capacity (local areas with higher capacity for server rooms, archives etc…)
Suspended ceiling with mineral cassetes
Separate metering of media consumption available
Port 7 s.r.o., a limited liability company established under the laws of the Czech Republic, with its registered seat at Křižíkova 682/34a, Karlín,
Postal Code: 186 00 Praha 8
Id. No.: 24154229 registered in the Commercial Register maintained by the Municipal Court in Prague under
File No.: C 183631
Port 7 D s.r.o., a limited liability company established under the laws of the Czech Republic, with its registered seat at
Křižíkova 682/34a, Karlín,
Postal Code: 186 00 Praha 8
Id. No.: 08797137 Registered in the Commercial Register maintained by the Municipal Court in Prague under
File No.: C 325495
Port 7 BC s.r.o., a limited liability company established under the laws of the Czech Republic, with its registered seat at Křižíkova 682/34a, Karlín,
Postal Code: 186 00 Praha 8
Id. No.: 08796483 Registered in the Commercial Register maintained by the Municipal Court in Prague under
File No.:C 325479
Port 7 A s.r.o., a limited liability company established under the laws of the Czech Republic, with its registered seat at Křižíkova 682/34a, Karlín,
Postal Code: 186 00 Praha 8
Id. No.: 08796378 Registered in the Commercial Register maintained by the Municipal Court in Prague under
File No.: C 325466