Changing the face of Prague - Holešovice
"With the Port7 project, we returned to Holešovice, where we completed the award-winning Visionary office building in 2018. We have trusted this location and are betting on its potential. We very much appreciate the cooperation with the Municipality of Prague 7, which supports this development. As part of our Port7 project, we will create not only high-quality offices, shops, and services, but also a nearly two-hectare public space full of greenery, with a promenade along the river, benches, and a number of sports facilities. The new waterfront will attract the attention of both the building´s tenants and the residents of Holešovice and other neighboring districts," says Petr Houska, Development Director of Skanska Commercial Development Czech Republic.
Port7 as an architectural and urban unit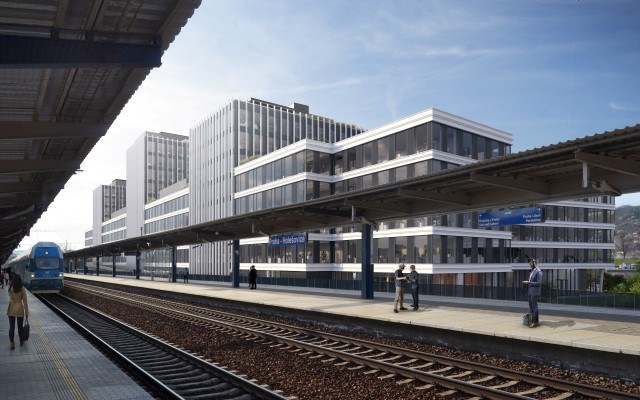 Port7 is being built near the Holešovice railway station, which is an important hub for urban, suburban, and international transport. The largest building E, which forms the backbone of the project, will offer a total of almost 28,000 m2 right along the railway line. It will be followed by two buildings A (4,200 m2) and D (3,700 m2) facing the Vltava River.
"The buildings are rotated at different angles to each other and are fully glazed with floor-to-ceiling windows. The glazed façade is designed to meet excellent thermal-acoustic parameters while providing a high proportion of glazing to provide beautiful views of the river and nearby Troja. Tenants will also be able to enjoy these from the building's many terraces, which total almost 1,200 m2. The terraces on the towers will be themed for work, play, and relaxation. Some will be open to all tenants and some will be exclusively offered for private use to one tenant," says Jan Hes, Port7 project manager.
Public park and piazzeta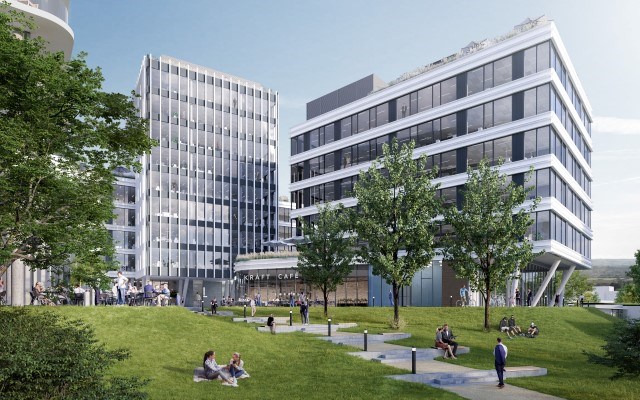 A piazzetta Port7, which will be created among the buildings, is designed as a service center. Tenants and visitors of the Port7 project will find there a café, food hall, bistros, hairdresser, fitness center, grocery store, and pharmacy for example.
The Port7 project also includes a new public space. On an area of almost 2 hectares, we will create a new public park with a promenade, benches, a cycle path, and various sports facilities. A dock for small boats will be created on the Vltava river bank.
"We are building Port7 both for our tenants and for the residents of Prague. High-quality public space is an important part of it, and that is why we pay maximum attention to greenery, small urban equipment, attractive gastronomic offer, and sports facilities. We want the waterfront in Holešovice to become as much of a landmark as the one in the city center," adds Jan Hes.
Sustainable Port7
Port7 is designed to be a highly sustainable building that saves and helps the environment during construction and its operation, effectively reducing energy and potable water consumption, for example (up to 40% compared to the LEED-certified baseline reference building). As part of the Port7 project's preparation and excavation work, we cleaned up a large brownfield site and removed environmental burdens. The project will capture rainwater to be used for watering green spaces.
We support alternative means of transport. There will be bike racks with showers and towel service for cyclists in the underground parking. Charging points for electric cars and electric bicycles are under discussion. Port7 is targeting the highest international environmental certification, LEED Platinum for Shell & Core in the latest version 4 (4.1).
Quality interiors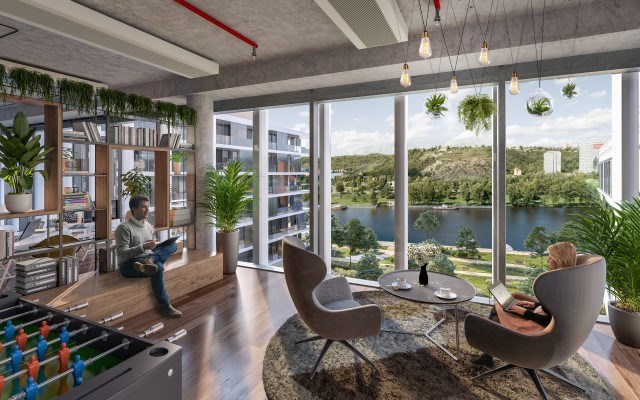 We are building Port7 to meet the criteria of the international WELL certificate, which evaluates interior spaces from the perspective of its users. Cleanliness and high air quality in offices are ensured by some of the most efficient filters on the market. We pay great attention to the access and balance of daylight. All built-in materials are strictly controlled for volatile organic content. The interior is designed to encourage active movement, so Port7 will not only have standard lifts but also attractive staircases in the common areas of the building. A number of relaxation areas are planned within the project - on roof terraces, between buildings, and in the cultivated environment of the Vltava embankment. We aim to achieve WELL Platinum certification.
A safe and healthy working environment
In the wake of the Covid-19 pandemic, we have worked with epidemiologists, architects, and designers to develop our own set of measures to ensure that the building's tenants and visitors are as comfortable and healthy as possible, even at an invisible microbial level. This includes devices that allow contactless movement around the building, detailed plans for surface disinfection, superior air quality control, and advice on the layout of individual offices. In addition, individual Port7 buildings will undergo an enhanced WELL Health-Safety Rating certification, which focuses specifically on buildings´ safety in terms of the spread of contagious diseases.
Smart building
Skanska will use its Connected by Skanska system for Port7, which simplifies the daily use of the building for tenants, visitors, and its property manager. This unique platform connects not only smart technology but more importantly people and their working environment.
The software includes a mobile app for regular users (employees of companies that will be located in Port7) and a web portal for tenants and property management. With Connected by Skanska it will be possible to park contactless, enter the building and office, or order virtual reception services. The entry system will allow the uploading of employee cards to Apple Wallet.
Port7 tenants
V Portu7 budou sídlit skupina Direct (pojišťovna a další dceřiné společnosti), klinika Oční centrum Praha, Scott & Weber, IT společnost Manta a další.