Press release
2/16/2015 1:00 PM CET
The Construction Segment of Skanska Group in the Czech Republic and Slovakia achieved a year-on-year increase in revenues of 18%. Skanska concluded the year of 2014 with total revenues of CZK 14,6 billion and with the operating profit of CZK 142 million. Last year, both the Residential and Commercial Development did more than well. Currently, there are 6 residential and 5 commercial projects on offer in various locations in Prague, 402 units sold, two commercial and one logistics project sold: this is a very positive record of 2014.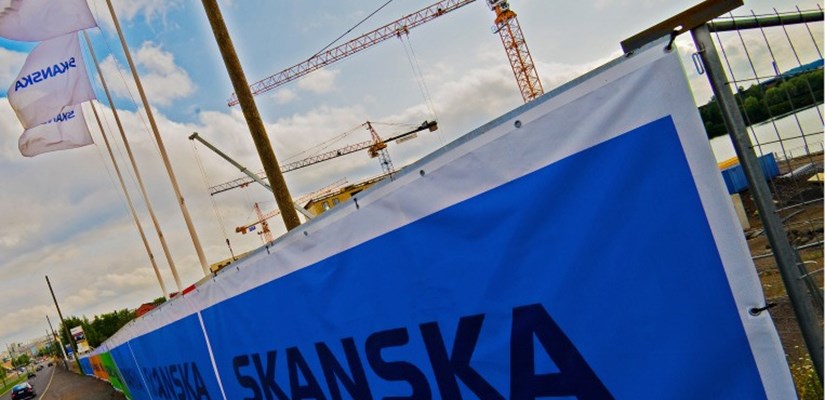 "Our regional activity is the main reason for our stable revenues in the Construction Segment. Market changed and consequently it was necessary to create a solid base of small and medium regional projects and we managed to do so in 2014. That is why we are going to continue with this strategy," stated Roman Wieczorek, CEO, Skanska Czech Republic and Slovakia. "Our ability to offer added value to our customers – throughout the "life cycle" of the project – represents our advantage; it can be provided either as technological know-how, our own resources or international experience, regardless of the project size," Roman Wieczorek added.
After several years of market decrease, this year Skanska expects a slight increase in the building and railway construction segment where recovery is seen among investors. Therefore, the company plans include recruiting of new employees and investments in construction machinery. Skanska intends to keep utilising synergies and intensify cooperation with Skanska Business Unit Poland. According to the company other segments, such as Roads and Bridges, will further stagnate because they depend on the degree of project preparedness.

The residential part of Skanska recorded a year-on-year growth of 28%, while in 2013 sold 315 new apartments, last year it was already 402. Currently Skanska offers 306 new homes in six Prague projects. This year the company plans to offer about 800 apartments in 8 Prague projects.
"Our long-term goal is to have a steady offer of around 600 new apartments evenly geographically distributed in different locations in Prague," said Nada Ptáčková, CEO of Skanska Reality. "Therefore, we are currently focusing on acquiring new projects. At this point, we perform due diligence in three projects, two are in final negotiations on the terms of purchase," she added in conclusion.


2014 was a successful year for commercial development. Skanska Property CR divested industrial land portfolio in Jeneč to Prologis, Inc. Since then, the company could fully concentrate on its core business – office building projects. In Ostrava, Nordica building has progressed to 92% occupancy also thanks to the expansion of the anchor tenant, Okin Group. Balabenka project in Prague 9 was leased to 95% and sold to CIB GROUP, a.s. In Smíchov, Riverview project reached its completion and was divested to German investor Invesco Real Estate. 90% of the building is leased to pharmaceutical concern MSD. Skanska Property intends to continue its activity at Smíchov by acquiring a land for project Five, located next door to Riverview. Corso Court project is currently growing in Prague 8 – Karlín and it will be completed in the end of summer. At the end of this year, it will become the headquarters of all three Skanska units operating on the Czech market.
"We are especially proud of our Riverview project. We have developed a strong and trustful partnership with MSD that resulted in establishing their IT Global Innovation Center in our project," says Marie Passburg, Managing Director of Skanska Property Czech Republic. "The sale of Riverview confirms the stability of Prague's real estate market and continued interest from institutional investors to purchase high-quality projects in good locations."
Summary of Skanska Group results for the period from January to December 2014:
Construction Segment – Skanska a.s. & Skanska SK a.s.:
(*IFRS consolidated results)
Operating profit for 2014 amounted to CZK 142 million
Skanska a.s. reported revenues of CZK 14,6 billion, which represents a year-on-year increase of 18%

Average number of employees

in Skanska 2014

was

4043

(

Czech Republic 3337

and

Slovakia

706

).
Residential Development – Skanska Reality a.s.:
402 units sold in 2014

306

units

currently

on offer

,

this year

we plan to

gradually

add

another 500

6 projects

currently

on offer

,

this year

we plan to add

2

projects

in new locations
Commercial Development – Skanska Property Czech Republic, s.r.o.:
1 finished project in 2014 – Riverview
2 commercial and 1 logistic projects sold
21,900 m2 leased office spaces
5 projects currently in offer
Skanska Group will continue focusing on the areas of occupational health & safety, business ethics and responsible attitude towards the environment. Strict compliance with these business principles also brought in the measure when from 1 January 2015 Skanska introduced mandatory use of protective goggles and gloves at all company construction projects and all production plants. This measure represents a global safety standard of Skanska which is now coming also to the Czech Republic and Slovakia.
"We intend to be the leader in occupational health & safety and that is why we go beyond the scope of the current Czech legislation, in the same way as in other strategic areas," states Roman Wieczorek.