Press release
7/1/2014 9:30 AM CET
MSD has signed a lease agreement with Skanska Property Czech Republic for approximately 90 % of the Riverview office building that is being constructed on Vltava River bank in Prague 5. The new lease will include approximately 6.200 m2 of first class office space in early 2015. MSD will house its IT Global Innovation Center in Riverview, which is the company's global IT hub in Prague established to develop and apply advanced innovative solutions within healthcare industry focusing on areas such as mathematical modeling, information security, mobile technology, big data and analytics.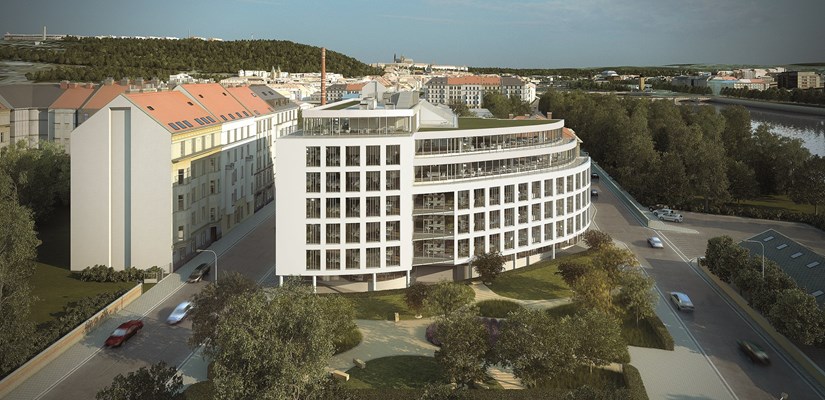 "The holistic approach used to develop the internal design of the Riverview office building perfectly reflects the company's commitment to a creative and collaborative working environment. Every team within the MSD IT Global Innovation Center has by now provided unique insight and input into the new facility. We intend to have a state of art system of functional zones on each floor, which Riverview's shape perfectly supports," explains John Westby, Associate Vice President MSD, who leads the company's new IT center.
Functional zones are part of a new approach that includes undisturbed workspace, collaborative areas for project work, innovation labs, as well as refocusing zones. The functional zones support an extremely diverse team environment. "Genius loci of this developing business district is that it maintains the industrial character from the past and also offers contemporary buildings suited to our intention to create a highly innovative office space", added Westby.
Riverview is a seven story building, being constructed on the Vltava riverbank. The whole Riverview office offers approximately 7.000 m2 of gross leasable office area with excellent accessibility and a wide range of services and amenities in the city center. MSD will be the anchor tenant, occupying almost 90% of the building.
The goal of Skanska is to contribute to sustainable development by developing state-of-the-art office buildings employing innovative construction solutions, materials and processes. The Riverview office building aims to receive Gold Level LEED certification. Architecture of the building comes from the Tengbom, one of the leading architectural firms in Sweden and the Nordic region. General contractor is Skanska a.s.
"We are proud to have developed a strong and trustful partnership with MSD that resulted in establishing their IT Global Innovation Center in our project. The lease agreement was signed while there are still 7 months to the completion. It all proves interest in high-quality, sustainable projects that offer comfortable and efficient work environment," says Marie Passburg, President, Skanska Property Czech Republic. "From the beginning we were convinced about the growing potential of Prague 5 district and concept of the project that due to its size provides a sense of identity to a tenant."
MSD is working to design space based on ergonomic rules in order to deliver innovative seating, use best acoustic insulation system as well as support space variability. MSD's impressive technical talent will capture and share information throughout the building as they work numerous visualization tools and interactive panels. For example, one such tool will enable writing on walls that will be automatically capture, store, and share ideas with surrounding colleagues. The entire design-build project results in superior business space located near the city centre. The project brilliantly integrates creativity, art, sense of nature, cosmopolitan environment and the latest technologies in the heart of Prague.
The Austin Company, a top design-build firm, is also delighted to have been working with MSD in developing the office layout strategy and "look and feel" for the GIC team. Reaffirming the collaborative effort of the design, Robert Naylor-Stables Architect and Director of Facilities Development at Austin Company affirms that "MSD team has been fully engaged in the process, bringing a high level of energy and enthusiasm. The briefing workshop sessions and design reviews have been very positive, enabling the design to be developed in a very focused way. We have been impressed that new people joining the team have also had the opportunity to input into the process," he continues.
The MSD IT Global Innovation Center covers a wide range of global IT services and will provide 100 new jobs for IT specialists in 2014 with an additional 100 new jobs created in 2015. Final number of employees should be reached in 2017. Overall amount of investment in the first three years of operation exceeds one billion CZK, which represents one of the largest IT investments in the Czech Republic in recent years. MSD is a global leader in healthcare and is known as Merck & Co. in the US and Canada.