Press release
8/13/2009 12:00 AM CET
Skanska Property Czech Republic has signed a lease agreement with OKIN GROUP, a. s. in the new office building Nordica Ostrava in the center of Ostrava. OKIN GROUP, which is the significant provider of supportive services for businesses in Central and Eastern Europe, will occupy 4700 sqm of office space on the second to the fourth floor as of January 1st 2010. OKIN GROUP is the first prominent tenant in the Nordica Ostrava office building, which is hereby 40% leased.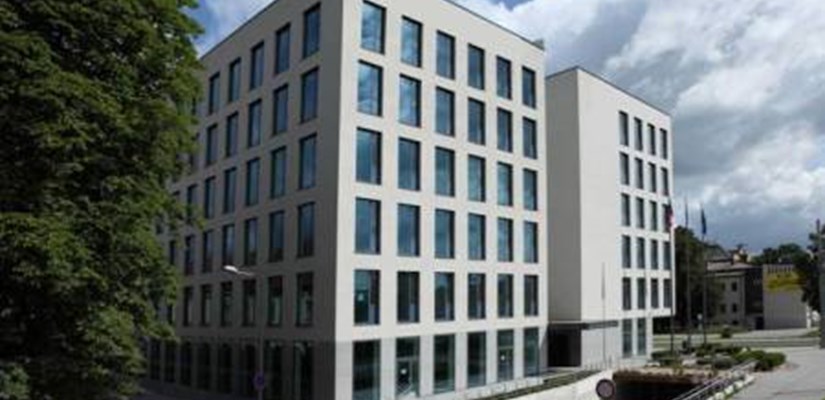 "We have decided for Nordica office complex as our new office premises since a modern A-class office building will generate significant synergies in our team work and will also meet our security criteria. Also important is its energy efficiency and green approach as well as prominent location in the centre of Ostrava with walking distance to all public amenities and with great traffic accessibility and interconnection to public transport. I believe that our employees and also our business partners and clients will appreciate our new high-quality modern A-class office premises and will feel comfortable on our new address," says Roman Trnka, Director of Strategic Development at OKIN GROUP, a. s.
OKIN GROUP will remove and consolidate all of its 430 employees of the Business Process Outsourcing Division working currently in different offices in Ostrava to set up one modern consolidated global service center for its global clients in Nordica Ostrava. New center will also create interesting new job opportunities for young graduates from Ostrava universities.
Nordica Ostrava is the first office building in Czech Republic with EC GreenBuilding certification for energy efficiency. The building, that is designed to have 30% lower energy consumption than required by the Czech norms, was completed in Q1 2009. The seven-floor property with rentable area of approximately 12,000 m2 of high-quality and flexible designed A-class offices has two underground garage floors and restaurant on the ground floor. The location in the periphery of the historical core center of Ostrava, between the Českobratrská and Soukenická streets, provides perfect connection to both public transport and main roads connection.
"We are happy to welcome OKIN GROUP as the first prominent tenant in our Nordica Ostrava office building. Flexibility and energy efficiency are attractive factors for office locations in tough times as we can see in the interest from potential tenants" says Rikard Henriksson, Managing Director, Skanska Property Czech Republic, and adds: "The offices that are GreenBuilding certified are not more expensive compared to the standard ones, but they do create savings on the energy bills for the tenants."
OKIN GROUP, a. s. OKIN GROUP is a significant provider of supportive services for businesses in Central and Eastern Europe. It has been operating in the Czech market since 1993 and during this period it has undergone a very dynamic development. Currently, the company employs over 1200 workers. It operates throughout the entire territory of the Czech Republic, as well as in Slovakia, the Ukraine, Russia, Bulgaria and Sweden. For the near future there are plans for an expansion into Romania, Serbia and other countries of Central and Eastern Europe.
OKIN GROUP brings together several brands, whose combined offer covers the all the key areas of support services for business - facility management, business process outsourcing and training.
OKIN FACILITY OKIN FACILITY is a reliable partner for the delivery of comprehensive solutions in the area of facility management. It helps its clients build a competitive advantage based upon effectively performed support activities at optimum levels of quality in combination with reduced costs. For more information visit the OKIN FACILITY website www.okinfacility.cz.
Skanska Commercial Development Europe is one out of 14 business units within Skanska. The mission is to initiate and develop real estate projects such as office buildings and logistical facilities. The main focus of operations is the large metropolitan areas in Czech Republic, Hungary and Poland. Skanska Commercial Development Europe is divided into three local companies - Skanska Property Czech Republic, Skanska Property Hungary and Skanska Property Poland. More information about Skanska Commercial Development Europe can be found at www.skanska.com/property
Skanska Property Czech Republic, s.r.o., a subsidiary of the Swedish company Skanska Commercial Development Europe (SCDE), is an experienced developer focusing on development of commercial real estate. The company has been operating on the Czech market since 1997 and has developed a number of office buildings and retail warehouses in the Prague area. Currently the company is developing office projects in Prague and in Ostrava and a large logistic park is being designed for construction outside Prague.The company manages the projects from concept over the lease of the buildings to its sale. Office building Nordica Ostrava was the first one in Czech Republic to be awarded the GreenBuilding certificate for energy efficiency.