Press release
10/25/2023 3:00 PM CET
The circularity gap, i.e. the percentage of non-renewable resources that remain outside the closed loop, amounts to 92.8% globally. Meanwhile, we're consuming 1.6 times more resources than Earth's regenerative capabilities allow, shows a report published by ThinkCo, in cooperation with partners: such as Skanska, JW+A, Revive, and more. A vast majority of buildings in the European Union don't meet the criteria for sustainable development, and they are responsible for nearly 40% of all energy use. The answer to supporting sustainable development is circular economy. In the Czech territory, this includes Skanska's Mercury project in Prague's Holešovice, which is currently being demolished on the basis of the circular economy principles.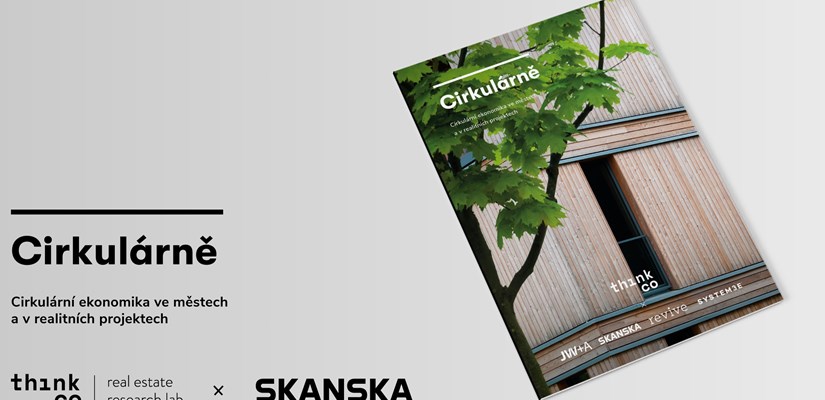 A new report published by ThinkCo, a real estate research lab, in cooperation with Skanska, JW+A, Revive, System 3E, Syrena Real Estate, and Torus, presents the key ramifications of the circular economy for the real estate sector. The world is currently producing and consuming goods in a linear fashion: we extract raw materials from the planet and create products that are then sold and used until most of them are discarded. The aim of a closed-loop economy, also known as a circular economy (CE), is to maintain the value of products, components, and materials for as long as possible, and to limit waste and pollution. Project Mercury as a flagship of circular economy in Czech real estate development
Globally, the construction sector is responsible for 35% of energy use, 38% of energy-related CO2 emissions, and 50% of resource consumption. In the EU alone, construction and demolition waste accounts for cca 30% of all waste. Real estate is therefore one of the most important areas of a circular economy. This is why giving new life to products is so incredibly important. One example of such an approach is Skanska's future modern office space project Mercury in the Prague district of Holešovice: "The Mercury project is of particular note, as it is the first property development investment in this scope in the nation that is being implemented in keeping with the principles of circular economy," says Eva Nykodymová, Environmental and Health & Safety Manager at office company Skanska for Central and Eastern Europe. Mercury will replace the 1971 Merkuria building, which no longer meets current standards for safety, health, and environmental impact. The decision to demolish it was preceded by in-depth analyses of its design, the materials used, and the systems installed, which made it possible to reuse many of its components.
According to the research done by ThinkCo, around 25% of used materials can be reused, and 70% of them can be recycled in a traditional building. In the Mercury project, it should be possible to recover approximately 14,000 tons of reusable or recyclable materials.
Sustainable development can be profitable
It is estimated that introducing a circular economy in Europe by 2030 could grow the continent's GDP by 7%. However, it is not possible to increase the economy's circularity without introducing radical changes to the real estate market. Acting in keeping with the spirit of CE can lead to the reduction of greenhouse gas emissions over the entire lifecycle of buildings by nearly 60%. Merely designing steel structures that can be disassembled and reused, could lead to energy savings amounting to 70% and lower greenhouse gas emissions by 80% over a building's lifecycle.
However, shifting the economy and real estate area towards circularity is a very long and complicated process. As evidenced by the case of the Mercury Project and ongoing demolition which faced difficulties with lost building documentation, which necessitated additional, specialized testing or mixed composition of some elements for example, façade elements contained glass, but also steel, insulation materials, and other components. "I don't think that at this stage of our industry's development, circular demolition can be carried out quickly. It's a new way of doing things, and we all need to learn the ropes. But it is essential if we really want to preserve our resources and the environment. We at Skanska are happy to spearhead this unique endeavor," explains Eva Nykodymová.
A new direction: professionalization of building renovation
The report also points to a new development in the sphere of building renovations and adaptations. And explains three main strategies that are going to dominate the market in the coming years. The adaptive strategy consists of changing a building's function to a different one, which involves transforming its structure and equipment. This could for example mean converting older or obsolete office buildings into apartments, or turning post-industrial buildings into shopping or cultural centers, or office space. The expansive strategy involves making broader use of a building by thoughtfully adding new spaces next to, above, or below the original structure. With the proactive strategy, the building continues to be in use, and preventive measures such as modernization, introducing new technologies, and targeted repairs of problematic areas are taking place so that it doesn't lose its functionality.
"Recognizing the significance of circular economy strategies in sustainable real estate development is crucial. By emphasizing their advancement, we not only open doors to growth and environmental responsibility but also equip ourselves to address the challenge of ever-shrinking resources.," concludes Eva Nykodymová, Environmental and Health & Safety Manager for Skanska`s commercial development business unit in Central and Eastern Europe.