Press release
8/22/2023 9:00 AM CET
Leading digital transformation services and product engineering company EPAM Systems, Inc. will anchor at Port7.
EPAM is joining the growing business community settled in Port7, in Prague 7 Holešovice. Skanska´s largest mixed-use project in the Czech capital offers a total of 36,000 sqm of prime commercial space, of which 53% offices and 100% retail outlets are already leased. People working in and living close to Port7 are already enjoying the new park and the renovated Vltava River embankment, where the first community events are being prepared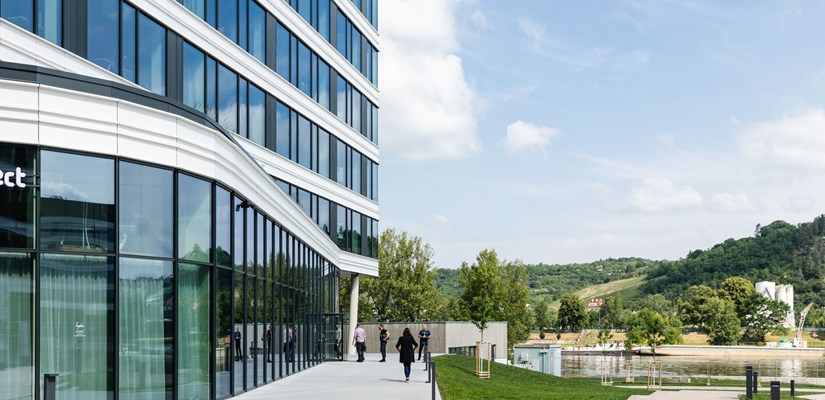 Tech giant charmed by the Vltava riverfront
The newest member of the Port7 business community is the global technology company EPAM Systems, Inc. which has leveraged its advanced software engineering heritage to become the foremost global digital transformation services provider – leading the industry in digital and physical product development and digital platform engineering services since 1993. The Company operates in more than 50 countries and regions, including the Czech Republic, and employs 55,600+ professionals worldwide. As a recognized leader, EPAM is listed among the top 15 companies in Information Technology Services on the Fortune 1000 and ranked four times as the top IT services company on Fortune's 100 Fastest Growing Companies list.
"EPAM Czech Republic has been looking for new premises to fulfill our strategic plans and development. Port7 offers excellent accessibility and surroundings for our employees," says Iurii Sukhovii, Head of EPAM Czech Republic and Slovakia. "One aspect that greatly appeals to us is the project's strong commitment to sustainability, providing innovative solutions that align with our values. We firmly believe that our employees will enjoy the variety of amenities that Port7 offers, the balance between the busy city life in Holešovice and the natural parks nearby."
Port7 serves both tenants and the local community
Large parts of Port7, such as retail and leisure premises and almost 2-hectare public space, serve both commercial tenants and the local community. Thanks to the easy access provided by the new underpass under Prague Holešovice railway station and the newly constructed cycling path, the Port7 park and revitalized Vltava waterfront have become favorite destinations for leisurely strolls and gatherings among families and friends. Starting in September, a regular program of events will further strengthen Port7`s position as a sought-after local meeting place for socializing, cultural events, and sports activities.
"We are delighted to welcome EPAM Systems to Port7´s community. So far, Port7 has attracted blue chip companies from industries such as IT, insurance, healthcare, and professional services." says Jana Prokopová, Asset & Leasing Director at Skanska Commercial Development business unit in the Czech Republic, and continues: "Our tenants appreciate not only the state-of-the-art office space but also the whole idea of transforming a brownfield site and creating a new local center for Prague Holešovice near the river. With the new park, well-maintained public space and community events starting from September."