Press release
6/19/2023 10:00 AM CET
Skanska Advances Circular Development with Reborn Design Winner, Barbara Rakovská.
Skanska continues its commitment to circularity and sustainability through a fruitful collaboration with Barbara Rakovská, the winner of the Reborn Design competition in the Recycled Building Material category. Her project PEBBLY-WAVY utilizes mycelium to transform gypsum from Skanska's Mercury building into acoustic panels. Skanska's ambitious goal is to construct the new Mercury building by reusing suitable materials from the current building, including up to 300 tons of gypsum.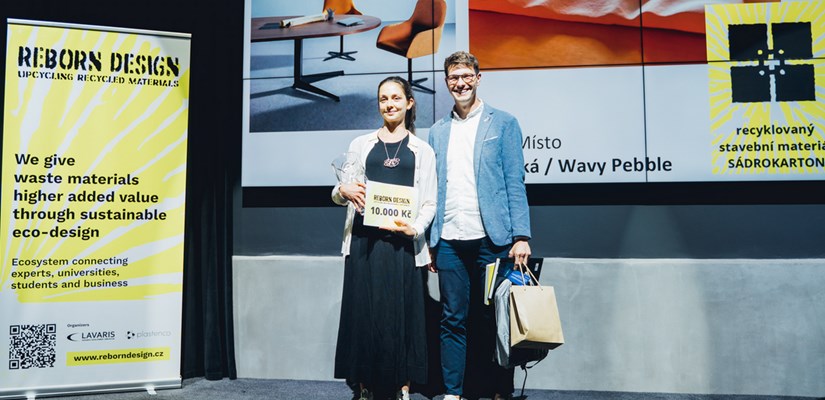 The Reborn Design eco-design competition challenges students to come up with sustainable design solutions. Partnering with the Recycled Building Material category, Skanska provided competitors with disassembled gypsum from the Mercury project, aiming to break the cycle of this material ending up in landfills. Instead, the company is determined to reuse all of it, finding new partners and innovative ways to recycle it.
"The Mercury project is a remarkable example of circular economy principles being applied to a commercial building in the Czech Republic. Instead of demolishing it, we are disassembling it and exploring new ways to give new life to old materials. This undertaking is both important and challenging. Therefore, we were happy to collaborate with Reborn Design and support students looking for new solutions, that prioritize recycling and repurposing in the realm of development," says Eva Nykodymová, Health & Safety and Environmental Manager at Skanska commercial development business unit in the Czech Republic and ambassador of the Recycled Building Material category of the Reborn Design competition.
Introducing Mycelium: a new solution for gypsum upcycling
Barbara Rakovská won the Recycled Building Material category with a concept that ingeniously combines gypsum with mycelium. This innovative material consists of branched, filamentous hyphae of fungi combined with a suitable substrate. Rakovská used gypsum collected by Skanska to create designer acoustic panels and acoustic paintings for office spaces.
Thanks to the absorption properties of the combination of mycelium and gypsum, coupled with Rakovská's unique design, these panels will limit noise and echoes, improving speech intelligibility and the overall acoustic environment in offices and other spaces. This project was created in cooperation with the Mymo Association, which is experimenting with the use of mycelium in architectural interior design.
"In line with the idea of circularity, I decided to use the combination of mycelium and plasterboard directly in the future offices of the Mercury building. The properties of this material are well suited to create a healthy working environment by reducing noise while also incorporating a unique natural aesthetic into the interior. The unused material from the old offices will not end up in a landfill but will find a purpose in the new office spaces," says Barbara Rakovská, a designer from the Faculty of Architecture at the Czech Technical University in Prague.
Tackling the challenges of gypsum recycling
Waste generated by building construction, civil engineering, and construction activities accounts for 46% of the total amount of waste generated in the Czech Republic. Out of the 4 million tons of construction waste generated annually, only about 15% is recycled.
Gypsum recycling in particular presents a complex challenge due to its composition. Plaster, a gypsum-based material, and cardboard, a cellulose-based material, are tightly bonded together, posing difficulties in their individual separation and recycling.
"This combination poses a challenge for traditional recycling methods and requires specialized techniques to ensure effective and sustainable solutions. However, we perceive this challenge as a mission that will drive transformative changes across commercial development in the Czech Republic. We strive to discover unconventional ways to use every material in the building, whether it's brick, fluorescent tubes, or extremely complex materials like plasterboard. As pioneers of circular development, we continuously seek new ways for others to follow," explains Eva Nykodymová.
Skanska Property's active participation in the Recycled Building Material category highlights its dedication to promoting sustainable practices and circularity within the construction industry. By raising awareness about the importance of proper waste management and educating stakeholders in the construction industry, Skanska plays a crucial role in addressing the challenges of recycling gypsum and other materials that traditionally find their way to landfills. By transforming these materials into valuable resources, the company sets a new standard for environmental consciousness in the field of development.