Press release
5/23/2023 10:00 AM CET
Skanska is excited to announce that Wikov Industry, a Czech company with over 100 years of experience and sales of 150 mio EUR, will be the new tenant of its Port7 project. Wikov Industry will move in at the beginning of October 2023 and will occupy 695 square meters of office space in the Dover building, as its new headquarters, and around 130 square meters of parking and storage spaces.
Port7, which offers 36,000 square meters of premium sustainable office and retail spaces, received the Occupancy Permit at the beginning of April and is already over 50% leased. Wikov Industry will occupy the 4th floor of the Dover building whose offices are now fully leased.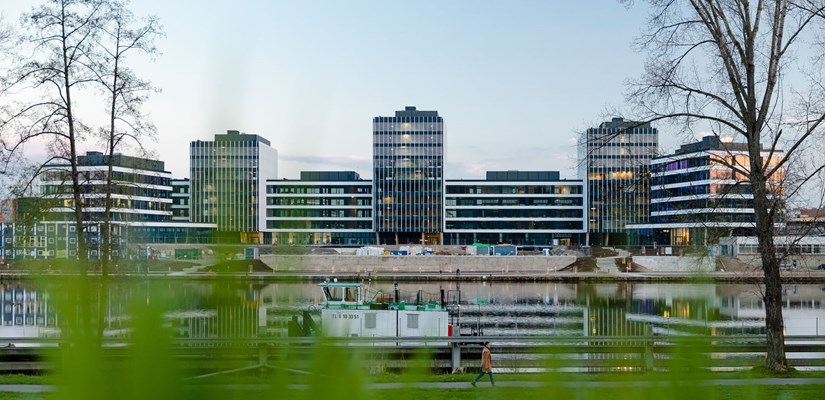 "We're delighted to announce our new partnership with Wikov Industry, who decided to join our vibrant and dynamic project Port7. As two companies with over 100 years of heritage, we share strong values and a commitment to delivering the very best. Throughout the negotiations, I was thoroughly impressed by Wikov's efficiency and constructiveness, and I'm proud to have them as part of our community. I can't wait to see their new design space come to life, and I wish them all the best in their fantastic new office space," says Marek Pikaň, Leasing Negotiator of Skanska's Commercial Development business unit in CEE.
Wikov has over 100 years of tradition in the manufacture of engineering products such as gears, mechanical gearboxes, and agricultural machinery. With a workforce of over 1,000 highly skilled professionals and sales totaling 150 million euros, Wikov is a true leader in their field.
"We are thrilled to join the Port7 community as its newest tenant. As a company with over a century of tradition in engineering and innovation, Wikov Industry is committed to excellence in every aspect of our work, and we are pleased to be a part of a development that perfectly aligns with our own values. The unique and innovative design of Port7, combined with its emphasis on creating a healthy and productive environment for its tenants, perfectly matches our own vision for our new headquarters." says Vladimír Truksa, Group Financial Director of Wikov Industry.
Svoboda & Williams represented Wikov Industry during lease negotiations. Svoboda & Williams' commercial leasing team completed its second successful transaction in the Port7 project.
Unique space for tenants and locals
Skanska received the Occupancy Permit for Port7 at the beginning of April and some of the tenants have already started their operation in their new offices, such as the eye clinic Oční centrum Praha and the IT company Manta Tools. Other companies, including Scott.Weber Workplaces and the financial group Direct, as well as services and amenities such as the OpenWine winery, Onegym fitness center, and Chuck & Frida restaurant, will soon open their premises. We are looking forward to adding Wikov Industry to our esteemed list of tenants in October 2023.
"Port7 is more than just an office project, it is a visionary development that will redefine the Holešovice district and its social and business scene. With a 17.000 square meters public park, a rejuvenated riverbank, and an abundance of dining and service options, it will offer both tenants and locals unparalleled opportunities to work, relax and connect with others. Moreover, the new underpass that connects the area to the rest of the district adds to the convenience and accessibility of the project. Furthermore, with the recent addition of Wikov Industry as a new tenant, we are thrilled to see that Port7 continues to attract companies that prioritize the well-being and productivity of their employees. Port7 is a testament to Skanska's commitment to creating sustainable and vibrant communities that positively impact the lives of all who interact with it. concludes Jana Prokopová, Leasing & Asset Director of Skanska's Commercial Development business unit in CEE.
The overall architectural concept of Port7 was designed by the acclaimed DAM.architekti studio. With a strong emphasis on sustainability, the project aims to receive LEED Platinum and WELL Platinum certifications, as well as the WELL Health-Safety Rating, demonstrating our commitment to ensuring a safe and healthy environment for all our tenants and visitors in this post-pandemic era. We are proud to offer a one-of-a-kind space that not only meets the highest standards of excellence but also promotes the health and well-being of everyone who sets foot in Port7.