Press release
4/25/2023 11:00 AM CET
Port7 by Skanska was completed and received the occupancy permit at the beginning of the second quarter of 2023 and is already 50% leased. The new district in the heart of Prague's Holešovice neighborhood has attracted, thanks to its premium and sustainable offices, the international audit, tax and advisory company Mazars. The project will also provide space for both indoor and outdoor recreation with a variety of cafés, restaurants, and services, as well as a large public park and a brand-new promenade along the Vltava River called Náplavka 2.0.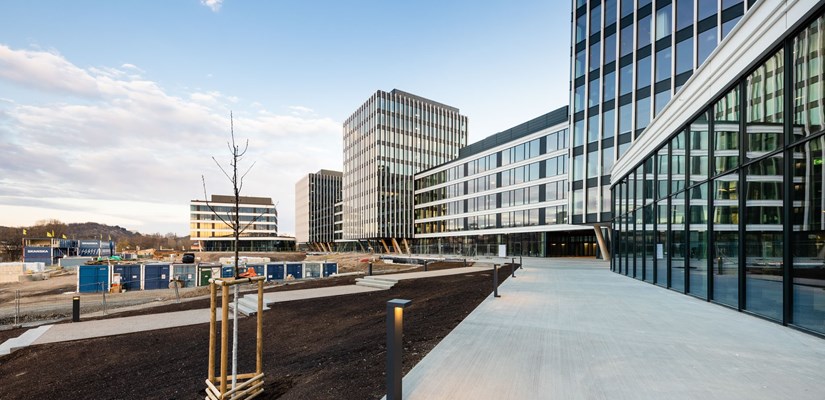 Mazars will occupy 2.900 square meters of Port7's top floors offices and 16 parking spaces. The company will move to its new headquarters at the beginning of 2024.
Premium offices for premium companies
With Mazars, half of Port7 is already leased. The new multi-use district will offer its tenants 36.000 square meters of modern and sustainable office spaces. Companies located in Port7 will benefit from its healthy and pleasant working environment. With energy-saving measures such as rainwater capturing and irrigation and efficient thermoregulation, they will have up to 40% lower water and energy consumption based on LEED baseline.
"We are delighted that such a prestigious company as Mazars has chosen Port7 for its new headquarters in Prague. It shows that our vision of creating a new vibrant place where people can work and relax in the almost two-hectare park by the river is attracting companies that appreciate the benefits of such a high-quality project," says Iva Vařechová, Leasing Manager of Skanska's Commercial Development unit in the Czech Republic.
Mazars is a leading international audit, tax and advisory firm. It operates in more than 95 countries and combines the expertise of 47.000 professionals. The Czech branch of the company has over 250 employees provides financial consulting tailor-made to large multinational corporations.
"We decided to build new offices in the Port7 complex due to its location with excellent transport accessibility, amenities of services and the use of the latest technology and design in its construction. As we are a company that has sustainability in its DNA, the aspect of compliance with current environmental, energy and economic standards was equally important to us. Our goal was to create a modern and attractive workplace that allows easy communication and networking between different departments and teams," said Milan Prokopius, Managing Partner of Mazars in the Czech Republic.
New greenery for both locals and tenants
Aside from premium office spaces, Port7 will also consist of a large 17.000 square meters public park with an outdoor bar, a volleyball pitch and other services. It will provide new green areas for the whole neighborhood, as well as places for working in the exteriors. Port7 will become the new vibrant heart of the Holešovice area.
"As part of Port7, we also created an entirely new promenade along the Vltava River, called Náplavka 2.0. The new district is now connected to the rest of Holešovice via a new tunnel to the Nádraží Holešovice train and metro station. Tenants and residents will also benefit from a wide range of services and restaurants located in the project's piazza. This is especially important for us, as we aim to create safe, comfortable, healthy, and sustainable places for our clients and the communities surrounding our projects," explains Jana Prokopová, Leasing & Asset Director of Skanska's Commercial Development unit in the Czech Republic.
As part of Skanska's focus on sustainability, Port7 aims to receive LEED Platinum and WELL Platinum certifications, as well as the WELL Health-Safety Rating, which reflects the need to protect the health of both tenants and visitors in the post-pandemic era.