Press release
4/5/2023 3:40 PM CET
The new project Port7 by Skanska has just received the Occupancy Permit. The first tenants are moving into the 3 office buildings that have been completed. Port7 has been offering 35.800 square meters of premium office and retail spaces, 50 percent of which are leased now. Skanska shifts its focus to finishing nearly 2-hectare public park and the new riverside, which is expected to become the new vibrant centre of Prague Holešovice. For better access to the entire area Skanska built an extension of railway underpass which directly connects the project with the subway, train and tram station of Nádraží Holešovice.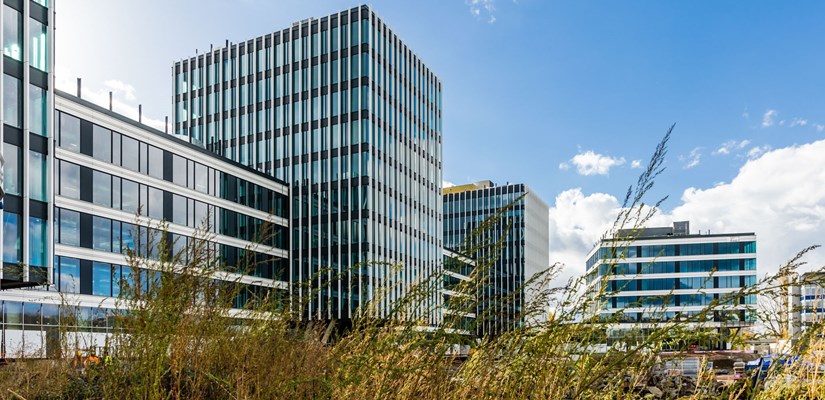 First tenants begin to move in
The eye clinic Oční centrum Praha and IT company Manta Tools have just moved in and started their operations in building Edinbourgh and Dover. Other tenants such as the insurance and financial services group Direct and a flex operator Scott.Weber are going to open their new premises in the upcoming weeks to enjoy their new offices in spring/summer by the river.
"We are happy that we can welcome the first tenants to Port7. At Skanska, our vision is to create a new vibrant place for work, sport and relaxation where our tenants can benefit from spacious rooftop terraces, high quality and healthy working environment. Prague residents can enjoy leisure time in the park with greenery, an outdoor bar, a volleyball pitch and other services. Port7 is an attractive place for new tenants and it is now 50% leased. Further business negotiations are in progress," says Jana Prokopová, Leasing & Asset Director at Skanska´s commercial development business unit in CEE.
The retail premises at Port7 are leased by 90% and the retail tenants that include Chuck & Frida restaurant with a new food hall concept created specifically for Port7, the Onegym fitness center, and the OpenWine winery have been preparing their businesses for opening as of autumn 2023.
Focus now on the public space
With the occupancy permit received, Skanska has now moved to work on this large public space, which will serve not only Port7 tenants, but the whole neighborhood.
"We are currently focusing on completion of the exterior part of Port7, especially on public space. An integral part of the Port7 project is a renovation of the Vltava riverbank. Our aim is to turn it into a lively and attractive public waterfront area. A new bicycle path built by TSK has been opened earlier and we are finishing the landscaping and greenery. We believe that with this large public space, of approximately 17.000 sqm, Port7 will become the new vibrant heart of the Holešovice quarter," says Jan Hes, Project Manager of Port7.
Port7, new park and the entire area by the river are now accessible through the new underpass built by Skanska under the Nádraží Holešovice station. With this Skanska provided much needed link connecting the Holešovice district with the riverbank.
Built for the future
Port7 was built with sustainability in mind. During construction, Skanska minimized the amount of waste material and cleaned the entire construction site from pollution caused by the area´s industrial past. As with all Skanska projects, Port7 aims to receive the LEED Platinum, WELL Platinum, and the WELL Health-Safety Rating certifications emphasizing the company´s deep focus on sustainability.
"We have been implementing sustainable solutions in our projects for more than a decade and with each project we push the boundaries of sustainable office development even further. Port7 will consume 50 % less energy and potable water compared with the average office building of the same size based on LEED reference. We have been calculating its carbon footprint for the construction as well 60-year operation periods. We have transformed the brownfield area into the new sustainable part of the city," concludes Eva Nykodymová, Health & Safety and Environmental Manager at Skanska´s commercial development business unit in CEE.