Press release
2/6/2023 8:00 AM CET
Port7, a project which will transform the former industrial area near the Troja Bridge in Prague's Holešovice, attracted four new tenants. Services at this location will be expanded to include a food hall, fitness, wine shop, barbershop, and self-service shop. One floor of Building D will belong to the Epitychia Group. Thanks to these new leases of 3,500 square meters in total, the occupancy of Port7 reached 40%.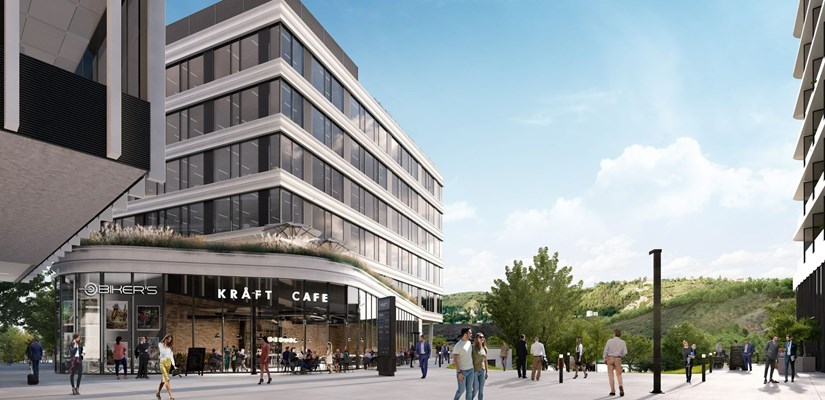 Launched by Skanska in 2021, the project Port7 will connect 7 towers, 3 of which will be office buildings, and offer more than 35.800 square meters of leasable areas. The first-class offices and retail spaces are scheduled for completion at the beginning of the second quarter of 2023. The Port7 office complex was designed to combine health, sustainability, and well-being. The project will bring great variety to the whole Holešovice district in terms of provided services and leisure time activities.
Services for tenants and visitors
The Port7 office complex will completely cover everyday needs such as relaxation, sports, or a wide range of dining options. Among the first tenants to ensure the satisfaction of everyone, those who work, live, or just visit the district will be the high-quality Chuck & Frida restaurant with a new food hall concept created specifically for Port7, Onegym fitness center, and OpenWine with several services. The Port7 office complex will also offer comfortable landscaping for sports activities and relaxation.
"To fulfill our vision of a sustainable, hi-tech, lively, and convenient complex, it is important to offer a diverse range of spaces not just for work, but also for relaxation and after-work activities. We are happy to share this new living space with such quality businesses as Chuck & Frida, Onegym, and OpenWine. I believe that all visitors and other tenants, among whom we now welcome Epitychia Group, will be happy to take advantage of these services.," says Jana Prokopová, Leasing & Asset Director at Skanska's commercial development unit in the Czech Republic.
Epitychia Group specializes in sustainable and ethical investments. The group's approach is to combine economic growth with driving positive change in the world. In this way, it helps clients monetize their investments in a meaningful way, which brings both profit and joy.
The newly created public space has already attracted multiple tenants, who will provide complementary services for all visitors. In addition to Chuck & Frida, OneGym, and OpenWine, the ground floor will also house Oční centrum Praha, an eye clinic, the insurance and financial services group Direct, and Scott.Weber Workspace, a flexible office, and coworking space provider. 90% of the premises intended for retail are currently leased.
Marek Pikaň, Leasing Negotiator of Port 7, adds: "The variety of services offered is the key to a healthy, pleasant, and in all respects high-quality space. Our vision is to create the perfect working environment and contribute to the development of the entire Holešovice area. We believe that the community around will enjoy the newly built part of the district and will take advantage of all the services provided."
New tenants attracted by sustainability
The relocation of companies to the new Port7 complex will take place in 2023. With the new retail tenants and Epitychia Group, 15.000 square meters are leased. Port7 offers in a total of 35.800 square meters of premium office and retail space, so its occupancy reached 40%.
Tenants of Port7 are attracted by its excellent location close to the center of Prague, but also by the project's readiness for the challenges of the future. The new district is based on sustainability and good health and safety. Therefore, Port7 aims to receive LEED Platinum, WELL Platinum, and the WELL Health-Safety Rating, which acknowledges the need to protect the health of both tenants and visitors in the post-pandemic era.