Press release
5/16/2018 3:30 PM CET
As of June 1, 2018, Alexandra Tomášková will take over the leadership of Skanska Property, the leading developer of office properties in Prague. She will be replacing Marie Passburg, who is returning to the Swedish company Skanska. In her new position, Alexandra Tomášková joins the management of the Commercial Development Europe division. She will continue to act as Leasing & Asset Director for the Czech Republic.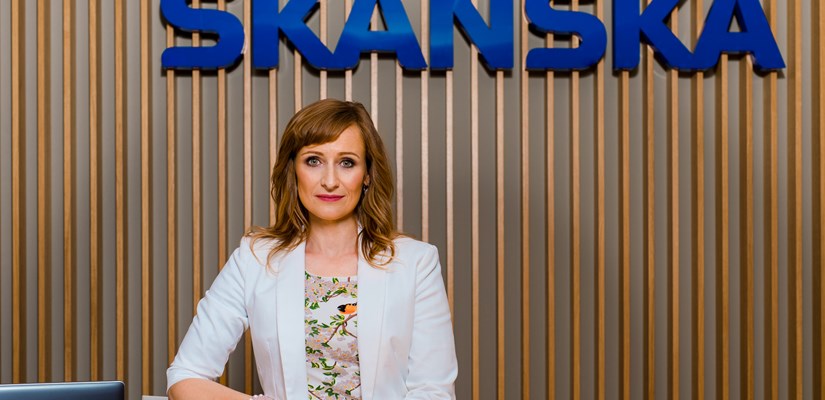 "Alexandra Tomášková is the first Czech person to become head of Skanska Property in the company's more than twenty years of operating in the Czech Republic. Currently, we are among the most active developers of modern office buildings in Prague, and Alexandra has made a significant contribution to this expansion. Over the past eight years, she has successfully managed the leasing and marketing of all our Prague projects. Alexandra is known for her focus on design, attractive features for tenants and innovations. I am happy that it will be her heading Skanska Property in the Czech Republic," says Katarzyna Zawodna, president of Skanska Commercial Development Europe, and pays tribute to Marie Passburg who is leaving Czech Republic for Sweden to become the Regional Manager of residential development business. "Marie successfully established Skanska Property as an effective organization with 3 ongoing projects annually. Now the market sees Skanska Property Czech Republic as a well-known office developer that delivers innovative and futureproof office schemes."
Alexandra Tomášková joined Skanska Property in 2010 as Leasing Manager. Over the subsequent eight years she was behind the commercial success of the office buildings City Green Court (Prague 4), Corso Court (Prague 8), Riverview and Five (both in Prague 5) and Visionary (Prague 7). As Leasing & Asset Director, she participates in the design, marketing and leasing of projects currently underway or in preparation: Praga Studios (Prague 8) and Parkview (Prague 4) and Key (Prague 4) and Port7 (Prague 7).
"I am excited, however I feel a great deal of responsibility. Together with the Skanska Property team, we will do our best to ensure we continue to develop first-class, sustainable and innovative buildings, providing a pleasant and inspiring working environment," says Alexandra Tomášková, new Managing Director of Skanska Property Czech Republic.
Alexandra Tomášková has been applying her business talents in the Commercial Development Europe division, where, for the past two years, she has been leading an international team for Skanska's strategic clients. Her activities now also include helping the Polish company, Business Link to enter the Czech market and the opening of the largest co-working center (almost 5,000 m2) in the Visionary office building in the summer of 2018.
Prior to joining Skanska Property, Alexandra Tomášková gained valuable professional experience at the Red Group development company, and the real estate consulting firm of Cushman & Wakefield. Alexandra Tomášková is a graduate of Silesian University in Opava. She is married and has a son, Lukáš. Her hobbies include traveling and sports, especially recreational running and skiing.
Contact:
Petra Machartová, Skanska Property Czech Republic
Tel: +420 603 587 928, e-mail:

Markéta Miková, AMI Communications
Tel: +420 739 057 684, e-mail:

Press releases are available at: www.skanska.cz/cz/News-and-press